LIGHTWEIGHT FIRE PROTECTION!
The demands placed on modern rail systems in terms of safety, energy efficiency and weight are becoming ever more stringent. Rail vehicles must last for decades and must not wear out prematurely despite daily acceleration and deceleration processes. The Europe-wide fire protection requirement, in accordance with DIN EN 45545-2, presents designers and engineers with additional challenges in the selection of suitable materials. Furthermore, the issue of sustainability and safety plays a major role in the development of modern rail vehicles today.
In order to meet all these requirements, the use of non-metallic lightweight materials is particularly suitable. Due to their low weight, they not only lower the energy requirements of the vehicles, but also reduce the wear of the rail systems and keep maintenance costs low thanks to their high corrosion resistance.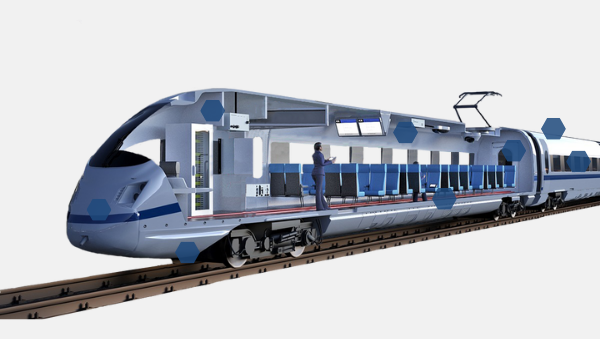 Our 3D|CORE™ RAIL lightweight solution has outstanding fire protection properties, good thermal insulation and sound absorption, and combines low weight with excellent flexural strength, dimensional stability and impact resistance.
Passenger safety is our top priority. To meet this prime objective, especially in the event of fire, our materials have a wide range of applications in the interior and exterior of passenger rail vehicles, including local and long-distance trains, trams, subways and cable cars, as well as rail freight vehicles. These include, for example, front ends, side elements, underbody protection, roofs, interior linings, floors, partition walls and WC cabins.


3D|CORE™ RAIL - WEIGHT-OPTIMIZED FIRE PROTECTION SOLUTION
With our 3D|CORE™ RAIL fire protection solution, components and assemblies easily meet the requirements of Hazard Level 3 according to EN 45545-2 and still have a significantly lower final weight than is possible with existing solutions. Due to the low weight of the individual system components, we reduce the energy requirements of rail vehicles and increase their long-term durability. The 3D|CORE™ fire protection system consists of 3D|CORE™ PET FR foam core, FR injection resin, 3D|CORE™ FR SEALING and an FR gelcoat. FR stands for fire retardant. In the event of a fire, the 3D|CORE™ FR SEALING acts as an insulator against radiant heat, protecting the component from flames. To achieve these excellent fire retardant properties, other systems have to apply disproportionately more glass fibre and fire retardant resin to their laminate. Due to the low density and optimized insulation properties of 3D|CORE™ FR SEALING, our fire protection system is significantly lighter than other systems and much easier and faster to process. In addition, we guarantee low maintenance and servicing costs due to our 2 CL system (two color layers in red and green).
Since our 3D|CORE™ fire protection system not only saves you weight, but also larger amounts of fiberglass and resin, sustainability and your competitiveness are drastically increased.
SIGNIFICANT BENEFITS:
Fire protection HL3 according to EN 45545-2 for R1, R7, R10, R17
High weight saving potential
Maximum design freedom
Excellent technical properties
Easy processing in vacuum infusion, RTM or hand laminate
Integration into functional groups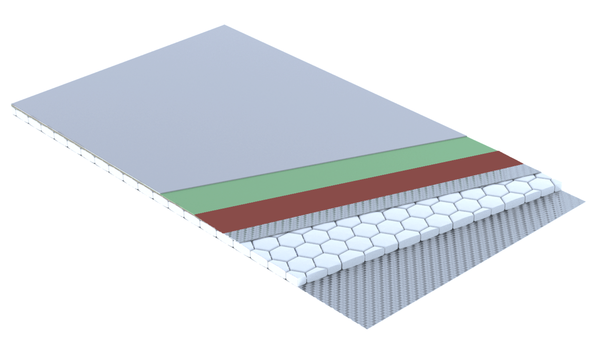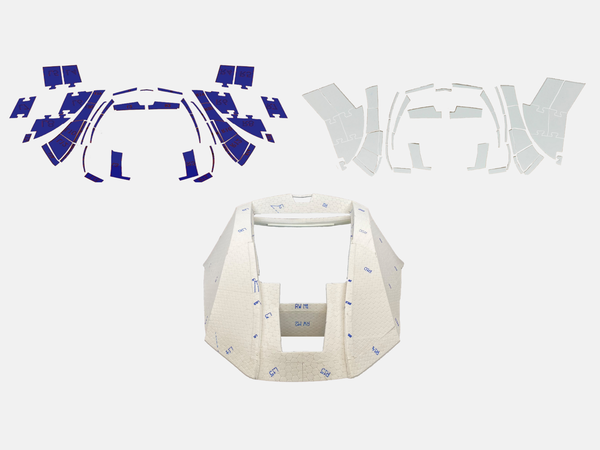 3D|CORE™ RAIL ASSEMBLY KITS
Design your production efficiently, economically and sustainably with our optimized and customized high speed assembly kits. Your 3D|CORE™ ASSEMBLY KIT is created from your 2D or 3D drawing. To ensure the fastest possible component production, our assembly kits consist of both cut-to-size core material, as well as scrim and fabric cuttings.
From your drawing, to the cutting plan, to the finished kit.
We are also happy to optimize your existing kit.
50% weight reduction
40% less fibre
Low component volume
Excellent fatigue strength
High corrosion resistance
Excellent mechanical properties
Durability & low maintenance costs
Savings in production time
Cutted fibres and foam cores
Reduced scrap
Sustainable & recyclable
Massive cost savings
Everything from a single source


We support you in all decisive phases of the value chain: from your idea to production.