The 3D|CORE™ TAPES have been specially developed for the winding process and simplify the production of rolls and tubes. They are made from our high performance 3D|CORE™ PET GR foam cores. Because of the high flexibility, due to the 3D|CORE™ HX structure and the easy handling, the TAPE can be easily wrapped around the carrier.

The 3D|CORE™ TAPES are also used as an alternative to purely monolithically wound components. With the help of TAPES, many layers of glass or carbon can be saved. This reduces costs and saves weight. To demonstrate these effects to you, we will be happy to prepare a comparative calculation for you. For this, we only need your laminate plan.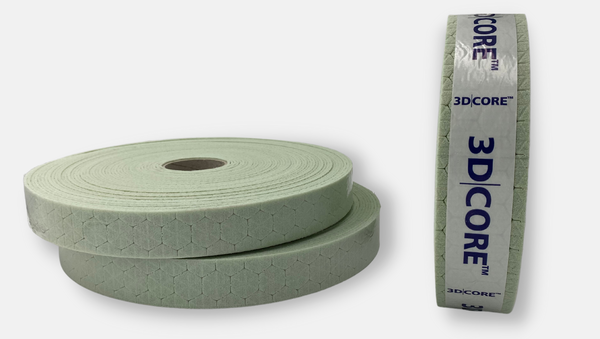 Benefits in the production process:
Shortened production: The build-up of several layers of foam is possible in just one step.
Perfect impregnation: An integrated flow aid supports saturation with the synthetic resin. Compared to nonwovens, they have a much lower resin absorption.
Production reliability: The integrated flow aid prevents an exothermic reaction within the component, as there is no massive accumulation of resin.
Dimensional stability: The material does not show any thickness reduction due to compression during the process, as you know it from other nonwoven materials, the so-called non-wovens. This allows you to precisely dimension the wound component.
Application Examples:
Pipes

Tanks

Rolls

Masts, Booms and Spars

Sleeves
For further information on available thicknesses and dimensions, please refer to the product overview in our download area.
RELATED AREAS OF APPLICATION: