EVERYTHING ON BOARD!
To meet the high demands of the modern shipbuilding industry, it is necessary to maximize performance, keep weight down, achieve high strength and cost-efficient production. At the same time, the demands on watercrafts are growing in terms of equipment, safety and sustainability.
The use of 3D|CORE™ products means a drastic reduction in weight with the same strengths. The high-quality composite materials ensure efficient use of resources, pave the way towards economical production to maximize the performance of lightweight and rigid components, and also reduce fuel consumption almost linearly with weight savings at the same length and speed.
Lightweight construction, cost efficiency, safety and environmental friendliness are today's key factors for marine applications and easily achievable with 3D|CORE™. Because we know: Watercrafts are only as good as the materials they are made of.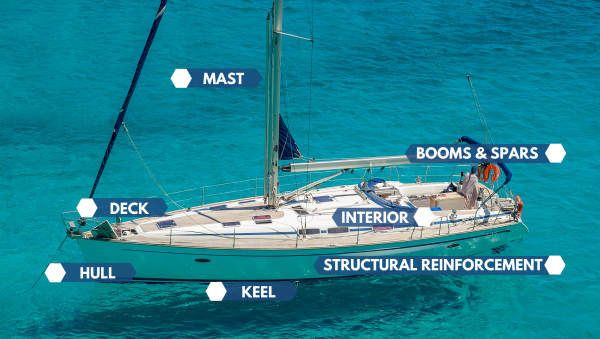 Areas of Application:
Sailing yachts
Motorboats
Megayachts
Passenger ferries
Vessels for special purposes
Fix-in-place™ ASSEMBLY KITS are mainly used in the deck and hull area, speeding up your manufacturing process considerably. As 3D|CORE™ PET GR is ideally suited for the highly stressed area below the waterline due to its excellent resistance, the production of a robust keel with low weight is possible. To increase stability, Cross|CORE™ construction boards are used for structural reinforcement in the hull as frames and stringers. Components such as beams, spars and masts can be manufactured reliably and quickly with 3D|CORE™ TAPES . By using 3D|CORE™ material in the ship's interior for walls, intermediate floors and tables, lightweight and stable components with excellent fire protection properties can be produced.
Significant Benefits:
Excellent shear and compression properties
Low weight
Excellent durability
High damage tolerance & impact resistance
DNV certified
IMO Part 5 fire certification
High strength and stiffness
Sustainable operation
Maximum flexibility
Easy processing
Our engineering team balances weight and performance for you.
Our planning engineers take over the sandwich optimization of a new laminate plan for you. We optimize already existing sandwich constructions or convert monolithic components into sandwich structures. In order to achieve savings in the final weight of your design, the existing laminate plan and the materials used are examined. In this course, we analyze the technical properties of your laminate structure and your minimum requirements. In addition, prototypes of the new laminate plan can be produced and tested in our test laboratory. With the help of our specially developed 3D|Calculator, the technical properties can be determined mathematically in advance. This also minimizes the risk for you.
Send us your construction plan - we will be happy to advise you and help you with our know-how and many years of experience.