Lightweight construction is one of the biggest challenges facing the automotive industry. Automobile manufacturers and suppliers are confronted with high demands for vehicle weight reduction and its effects on fuel consumption, CO2 emissions and manufacturing costs. On-board electronics, including modern safety systems, are becoming increasingly complex and add a great amount of weight. This weight not only has a negative impact on fuel consumption, but is also at the expense of driving dynamics. In the case of electric cars, there is a further point: in order for them to keep up with conventional vehicles with internal combustion engines, their operating range must increase dramatically. However, larger batteries mean more weight, which has to be compensated for elsewhere.
With 3D|CORE™ lightweight products, you are able to manufacture vehicles that meet increasingly stringent requirements in terms of safety, weight, mechanics and sustainability.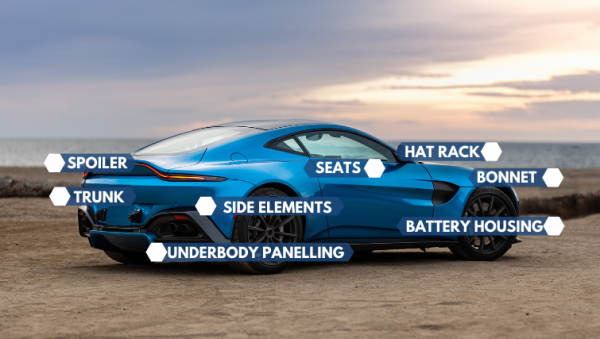 Areas of Application:
Passenger cars
Electric vehicles
Sports cars
Motorcycles
Agricultural vehicles
Special vehicles
Fix-in-place™ ASSEMBLY KITS are particularly suitable for series production. The custom-made rapid assembly kits, consisting of foam and fabric cuts, make your production efficient and sustainable and guarantee the fastest possible production of your components.
In the area of underbody protection, we recommend the use of Cross|CORE™ Construction boards. The combination of excellent strength and low weight ensures long-term dimensional stability of components subject to particularly high stresses.
Significant Benefits:
Weight savings
Lower fuel consumption
Shortened production time
Complete design freedom
Strength & stability
High bending & impact strength
No rotting
Easy processing
Our planning engineers will provide you with their expertise for your next project at any time.
Send us your construction plan - we will be happy to advise you and help you with our know-how and many years of experience.