Cross|CORE™ construction boards consist of a 3D|CORE™ foam core filled with an epoxy resin system to guarantee excellent strength, low weight and long-term dimensional stability. The surface layers made of fibres (e.g. GRP, CFRP, aramid) or HPL can then be coated and printed in a variety of ways. The construction boards can be individually assembled according to your wishes in terms of core thickness, surface layer and fire protection class. You then receive an ultra-lightweight, ready-to-install composite component, which can be delivered including inserts on request.
In order to completely save you the process of production, we supply the Cross|CORE™ construction boards not only as boards according to your drawing, but also as cuts accurate to the millimetre, including edge processing according to plan. Alternatively, our boards can also be finished using standard woodworking machines.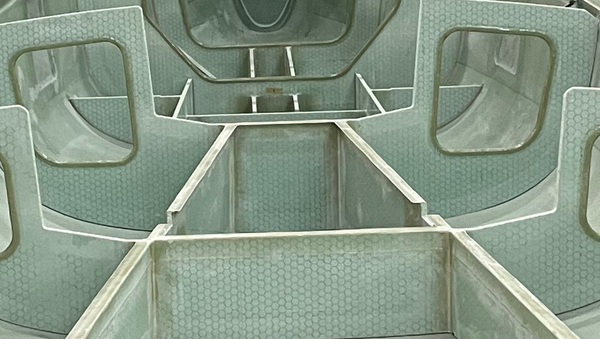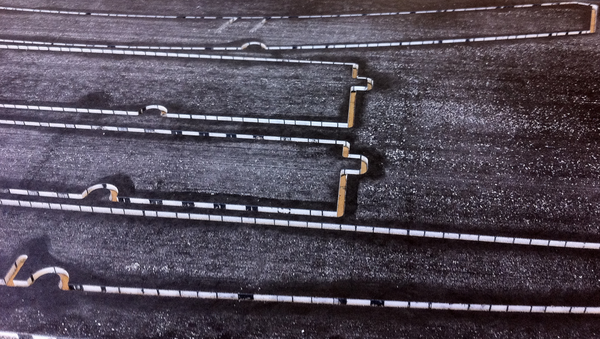 Due to the unique 3D|CORE™ structure, Cross|CORE™ construction boards have significantly better properties than other foam core composite boards or wood. For example, they are characterized by excellent weather and vermin resistance, high tolerance accuracy, good acoustic properties, excellent strength and high chemical resistance.
Environmentally friendly, recycled foam core (post-consumer 3D|CORE™ PET GR)

Durable moisture resistance (no expansion)

Weather resistant

Rot-resistant

No pest infestation

Durable

Formaldehyde-free

CFC and HCFC free

Free from harmful impregnating substances

High mechanical properties with low weight

Excellent fatigue strength

Good insulation properties

High compressive strength

Homogeneous structure

Splinter-free, no risk of injury

Resistant to oils, alkalis, acids and seawater
Comparison to other construction board materials:

Constructions

Floors

Walls

Furniture construction

Stages

Machine housings

Shipbuilding

Caravan

Vehicle construction

Trailers

Cargo wagons

Interior and exterior
Cross|CORE™ construction boards are available in three different versions: Cross|CORE™ GR with recycled foam core and hexagon structure, Cross|CORE™ IT with white foam core and hexagon structure and Cross|CORE™ GR IT light with recycled foam core without structure.
You can find more information on available thicknesses and dimensions in our download area.


Processing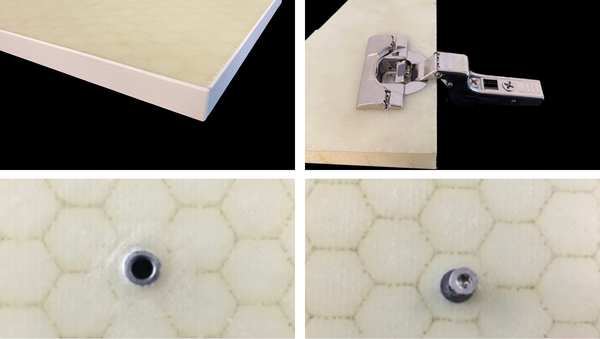 Cross|CORE™ construction boards can be easily post-processed with conventional woodworking machines and carbide-tipped woodworking tools. If required, delivery can also include inserts.
Examples of fittings and screws:
Edging
Hinge
Male and female thread
Metal plug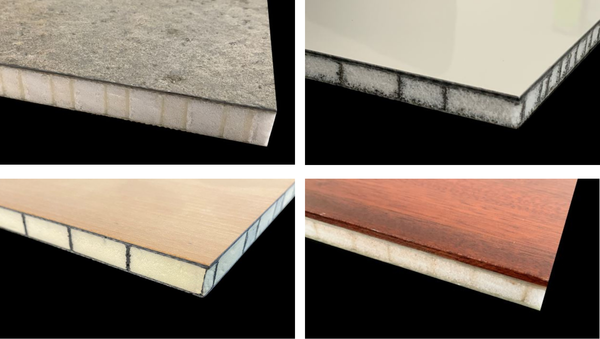 Cross|CORE™ construction boards can be coated and printed in many versatile ways.
Examples of possible surface decors:
Stone
Aluminium
Veneer
Wood
RELATED AREAS OF APPLICATION: