MAXIMUM SAFETY AT MINIMUM WEIGHT!
The demands on modern railways in terms of safety, energy efficiency and weight are becoming increasingly high. Rail vehicles must last for decades and must not wear out prematurely despite daily acceleration and deceleration processes. The fire protection standard according to DIN EN 45545-2, which applies throughout Europe, presents designers with additional challenges in the selection of suitable materials. Furthermore, the issue of sustainability and safety plays a major role in the development of modern rail vehicles today.
In order to meet all these requirements, the use of non-metallic lightweight materials is particularly suitable. The low weight not only reduces the energy requirements of the vehicles, but also minimizes the abrasion of the rail systems. In addition, they keep maintenance costs low due to their high corrosion resistance.
Areas of Application:
Local passenger rail transport
Long-distance passenger rail transport
Trams
Subways
Rail freight transport
Passenger safety is our focus. With our 3D|CORE™ fire protection boards, components and assemblies effortlessly meet the requirements of Hazard Level 3 according to EN 45545-2 and yet have a significantly lower final weight than is possible with existing solutions. Due to the low weight of the individual system components, we reduce the energy requirements of rail vehicles and increase their long-term durability. As cut-to-size Fix-in-place™ ASSEMBLY KITS , the fire protection boards significantly speed up your production process. For particularly large components, 3D|CORE™ ROLLS are also suitable, as up to 64 metres of foam core can be effortlessly unrolled and placed in the mould.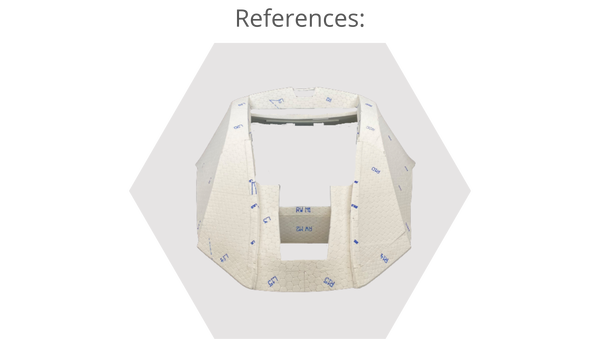 Significant Benefits:
Excellent shear and compression properties
Fire protection certification according to EN 45545-2 (HL3 for R1, R7, R10 and R17)
High weight saving potential
High fatigue strength
Maximum design freedom
Good thermal insulation & soundproofing
High corrosion resistance
Easy processing
Excellent flexural strength, dimensional stability and impact resistance
Integration into functional groups
With us you get sustainable, long-lasting, economical and flame-retardant material systems!
Our planning engineers will provide you with their expertise for your next project.
Send us your construction plan - we will be happy to advise you and help you with our know-how and many years of experience.