With our optimized and customized rapid assembly kits, you can make your production efficient, economical and sustainable. Your fix'n place™ ASSEMBLY KIT is created from your 2D or 3D drawing. By nesting, the individual cuts from the cutting data are arranged in order to guarantee optimal material consumption. In addition, our engineering team will create a suitable insertion plan with the labeled cuts for your mould. These are precisely cut according to the final drawings, including all angles and curves. To ensure the fastest possible component production, the rapid assembly kits consist of both cut-to-size 3D|CORE™ foam core as well as scrim and fabric cuts. We are also happy to optimize your existing kit.
From your drawing, to the cutting plan, to the finished kit.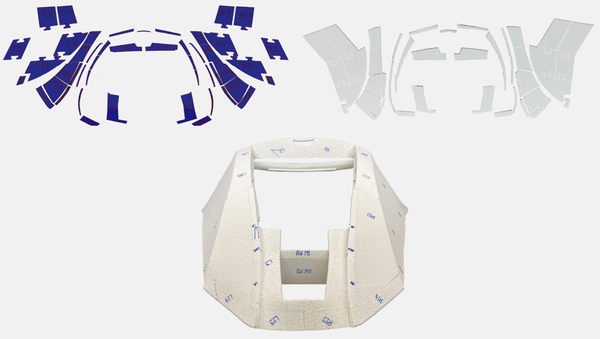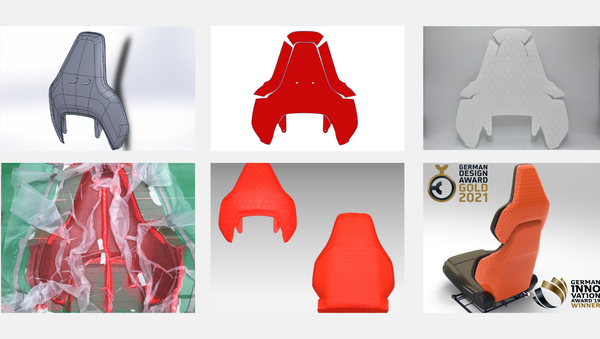 THE PROCESS
fix'n place™ ASSEMBLY KITS are not "off the peg"! Our knowledge is based on our many years of experience and expertise in the production of composite components for a wide range of applications.

CUSTOMER INQUIRY
3D drawing incl. desired thickness and core properties

Checking of the drawing

Optimizations, if necessary
KICK-OFF MEETING
Determination of:

Number of cuts and components

Costs

Final weight

Delivery rhythm, quantity and packaging

Duration of the production process
ENGINEERING
Flattening process (from 3D to 2D)

Calculations

Checking the geometry of the cuts

Optimization for effective material use (nesting)

Generation of cutting files

Generation of a numbered insertion plan for easy application
PROTOTYPE PRODUCTION
Production of the required 3D|CORE™ material

Production of a fix'n place™ ASSEMBLY KIT prototype to minimize corrections to subsequent kits
SERIES PRODUCTION
After approval of the prototype and any corrections:

Production of the required 3D|CORE™ material

Production of the fix'n place™ ASSEMBLY KITS, consisting of 3D|CORE™ foam core and textiles, in series production
LOGISTICS
Optimized packaging for particularly sustainable and safe transport
fix'n place™ ASSEMBLY KIT - Options


Fix-in-place™ ASSEMBLY KITS speed up your production process.*

RELATED AREAS OF APPLICATION: