EVERYTHING ON BOARD!
To meet the high demands of the modern shipbuilding industry, it is necessary to maximize performance, low weight, high strength and cost-efficient production. At the same time, the demands on boats and ships are growing in terms of equipment, safety and sustainability.
Lightweight construction with 3D|CORE™ solves all these challenges and reduces fuel consumption almost linearly to weight savings for the same length and speed.
To combine climate and environmental protection, as well as the efficient use of resources, ship resistance must reduce. The 3D|CORE™ solution: drastically reduce the weight of yachts, sailboats, motorboats or passenger ferries. Our lightweight solutions for the marine industry are characterized by high strength and stiffness at extremely low weight, easy processing, and their maximum flexibility. In addition, our 3D|CORE™ foam cores are particularly durable and sustainable and impress with the best performance, thanks to the excellent fatigue strength and high damage tolerance. Because we know: Watercrafts are only as good as the materials they are made of.
Lightweight construction, cost efficiency, safety and environmental friendliness are today's key factors for marine applications and are easy to implement with 3D|CORE™.
3D|CORE™ MARINE lightweight solutions are characterized by particularly high-quality fiber composites for a large number of components relevant to ship and boat building.
Our products are used in the deck area as well as in the hull. Thus, lightweight and high-strength components can be manufactured for passenger ferries, yachts, day cruisers, cruise ships, as well as sailing and motor boats. Due to its excellent fatigue resistance, 3D|CORE™ PET is ideally suited for the heavily stressed area below the waterline. This includes the production of a robust keel with low weight. To increase stability, our products are used for structural reinforcement in the hull as frames and stringers. Components such as transoms and masts can be reliably manufactured with 3D|CORE™ TAPES. By using 3D|CORE™ in ship interiors for interior walls, floors and tables, lightweight and stable components can be manufactured.


An optimized laminate plan will take you forward!
To build components easily, to produce cost-efficiently and safely, as well as to act sustainably, an optimized laminate plan is essential.
Our engineering team will take care of the design and optimization of a new laminate plan for you. We optimize already existing sandwich structures and convert monolithic components into sandwich structures. In order to achieve savings in the final weight of your construction, the existing laminate plan, as well as the materials used, are examined. The technical properties of the existing laminate are also analyzed and the minimum requirements are used.
3D|CORE carries out the sandwich optimization of the new laminate for you. The basis for this is an extensive database, as well as the excellent and long-standing know-how of our engineering team. In addition, prototypes of the new laminate design can be produced and tested in our test laboratory. With the help of our specially developed 3D|Calculator, the technical properties can be determined mathematically in advance. This additionally minimizes the risk for you.
In contrast to regular foam cores, the use of 3D|CORE™ allows savings on fibre layers and fabrics. As a result, the final weight of the respective component can be drastically reduced. Furthermore, the thickness of the component can also be decreased.
Our engineering team balances weight and performance for you.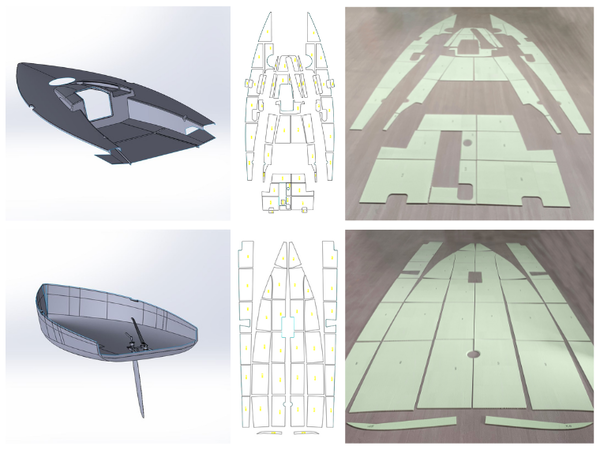 3D|CORE™
MARINE ASSEMBLY KIT
Design your production efficiently, economically and sustainably with our optimized and customized high speed assembly kits. Your 3D|CORE™ ASSEMBLY KIT is created from your 2D or 3D drawing. To ensure the fastest possible component production, our assembly kits consist of both cut-to-size core material, as well as scrim and fabric cuttings.
From your drawing, to the cutting plan, to the finished kit.
We are also happy to optimize your existing kit.
50% weight reduction

40% less fibre

Low component volume
Excellent fatigue strength

High corrosion resistance

Excellent mechanical properties

Durability & low maintenance costs
Savings in production time

Cutted

fibres and foam cores

Reduced scrap

Sustainable & recyclable

Massive cost savings
Everything from a single source
We support you in all decisive phases of the value chain: from your idea to production.