To meet the high demands of the modern shipbuilding industry, it is necessary to maximize performance, low weight, high strength and cost-efficient production. At the same time, the demands on boats and ships are growing in terms of equipment, safety and sustainability.
Lightweight construction with 3D|CORE™ solves all these challenges and reduces fuel consumption almost linearly to weight savings for the same length and speed.
To combine climate and environmental protection with efficient use of resources, ship resistance must reduce. The 3D|CORE™ solution: drastically reduce the weight of yachts, sailboats, motorboats or ferries. Our lightweight solutions for marine applications are characterized by high strength and stiffness at an extremely low weight, easy processing, and a maximum flexibility. In addition, thanks to their excellent fatigue strength and high damage tolerance, they are particularly durable and sustainable, and deliver top performance.
Lightweight construction, cost efficiency, safety and environmental friendliness are today's key factors for marine applications and are easy to implement with 3D|CORE™.
AREAS OF APPLICATION:
Ferries
Yachts
Sailing boats
Motorboats
Lightweight container
COMPONENTS:
Keel
Deck
Mast
Hull
Structural Reinforcements
Interior


An optimized laminate plan gets you further!
In order to build components easily, to produce cost-efficiently and safely, as well as to act sustainably, an optimized laminate plan is essential.
Our engineering team takes care of the design and optimization of the new laminate plan for you. We optimize existing sandwich structures and convert monolithic components into sandwich structures.To achieve savings in the final weight of your construction, the existing laminate plan, as well as the materials used, must be examined. The technical properties of the existing laminate are also analyzed and the minimum requirements are used.
3D|CORE carries out the sandwich optimization of the new laminate for you. This is based on an extensive database as well as the excellent and long-standing know-how of our engineering team. In addition, prototypes of the new laminate design can be produced and tested in our test laboratory. With the help of our specially developed 3D|Calculator, the technical properties can be determined mathematically in advance. This additionally minimizes the risk for you.
In contrast to regular foam cores, the use of 3D|CORE™ allows savings on fiber layers as well as fabrics. As a result, the final weight of the respective component can be drastically reduced. Furthermore, the thickness of the component can also be decreased.
Our engineering team balances weight and performance for you.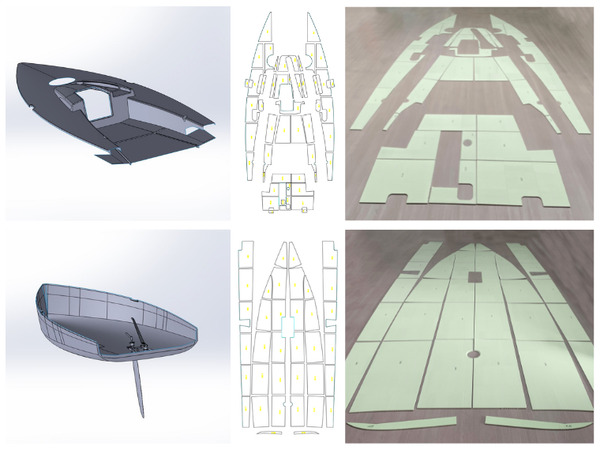 3D|CORETM MARINE ASSEMBLY KIT
With our optimized and customized quick kits, you can design your production efficiently, economically and sustainably. Your 3D|CORE™ ASSEMBLY KIT is created from your 2D or 3D drawing. To ensure the fastest possible component production, the quick assembly kits consist of both cut-to-size core material as well as scrim and fabric cuttings.
From your drawing, to the cutting plan, to the finished kit.
We are also happy to optimize your existing kit.
50% lighter

40% less fibers

Low component volume
Excellent fatigue strength

High corrosion resistance

Excellent mechanical properties

Long service life & low maintenance costs
Savings in production time

Cutted

fibers and foam cores

Reduced scrap

Sustainable & recyclable

Massive cost savings
Everything from a single source
We support you in all decisive phases of the value chain: from your idea to production.